Department of language development
Department of language development South Kazakhstan State University M.Auezov organizes and provides:
Programs of study of Kazakh, Russian, English and other foreign languages
translation services (Kazakh, Russian, English and other foreign languages)
consulting for teachers and other stuff of university leading discipline in English, and students of the discipline in English
Department of language development staff

Head of DLD:

Zhamantayeva A.A, "Best Teacher of Kazakh Language" – 2008 (HELS teachers)

10 - 11 October, 2012. She participated in the national contest "Best Teacher of the Kazakh language" which was organized with the participation of the Sh.Shayahmetov Republican Methodological Center of Languages and the Committee of language of Ministry of Culture and Information, Astana

11-12 October, 2012. Participant of the conference "Tilim –tiregim, zherim-tugirim" which was supported by the Languages Development Department of the Karaganda region.

16 November, 2012. She read a report on "Effective methods of teaching Kazakh language for other nationalities" at a seminar - training "Technology training of the state language for other nationalities" and was awarded with a thankful letter.

27-28 November, 2012, Almaty. Zhamantayeva A.A participated in professional development seminar on the continuing education model based on the method of studying the characteristics of teaching Kazakh language for adults and received a certificate.

Zhamantayeva A.A participated and was awarded with a thankful letter at the international scientific-practical conference "Auezov readings – 11" organized by M.Auezov SKSU in honor of the 115th anniversary of M.O.Auezov "Kazakhstan on the way of educated society: an innovative direction of science, education and culture".

She has been trained in pedagogical specialties in the National Training Center «Orleu».

25 - 7 December, 2013 she took an advanced training course on "Pedagogy and innovative technique of university in the field of higher education" with the support of the National Training Center «Orleu» in the international department INTAMT in Dusseldorf, Germany.

In 2015 was awarded with thankful letter at the seminar called "Language learning, teaching methods and features of language proficiency assessment" organized by Department of education, youth policy and language development of South Kazakhstan oblast.

In 2015 was awarded with thankful letter from Akimat of Al-Farabi region of South Kazakhstan oblast.

In 2015 was awarded with thankful letter from Shymkent City Center of Language Learning of the Department of languages, archives and documentation development for the methodological help on practical seminar on theme "KAZTEST is guidebook to development of state language".

By the day of the 25th anniversary of Independence day of the Republic of Kazakhstan, was awarded with thankful letter from the Department of languages, archives and documentation development of the South-Kazakhstan oblast for great contribution in the development of the state language.

She has received the certificate for participation in the international scientifically practical conference "Three lingual education-National and International Practices" organized by "Information and analyses center" JSC by the Ministry of Education and Science of K.R., on November 23-24, 2016 year.

By results of 2015-2016 academic years she was awarded with the certificate of the winner on the nomination "The best linguistic" of M. Auezov SKSU, 29.12.2016.

Highly qualified specialist in the state language

Amirkulova Assel Kuralbayevna


Highly qualified specialist in the state language.
Languages: Kazakh, Russian, Turkish.


Teacher and interpreter:

Translator Bazarbekov Alhuat SH

Kazakh / Russian and Russian /Kazakh


Interpreter of English

Beloussova L.N.

Member of TESOL,
winner of many international
and national programmes,
studied in British Council,
in USA (South Corolina University).

Interpreter of German

Fomenko S.

Highly qualified teacher and translator of German.


Smaiyl Akmaral Halikkyzy –
teaches courses of Kazakh
and office work in a state language.

Serikbayeva Sholpan Yergeshovna

Teacher of English language,
perfectly knows Kazakh,
English and Russian languages.

Ahmed Waqar

Teacher of English language

Knowledge of Kazakh, English languages.

Ospanova Dzhazira Duisenbekovna

Operator of the Department of language development

All of the staff members at the Department of language development are very welcoming and helpful. They are very open to the students and are not afraid to take down the wall between the teacher and student. Student feel free to visit them during any office hours to ask any questions without feeling intermediated.

Advice and assistance to SKSU students and teachers on special disciplines:

• Currently 21 specialties at 9 faculties are taught in English. These disciplines are thought by PhD, candidates and masters. The list of disciplines in English is wide as well as analytical chemistry, food safety, biochemistry, fashion, environmental protection, discrete mathematics, etc.

Methodical literature recommended by DLD:

• Kazakh-Russian-English phrase book for university teachers and managers

• Terminological Vocabulary on Accreditation (Kazakh-Russian-English)

• The course of lectures for chemistry teachers and students of chemical and technological professions

For more information:

Telephone: 30-13-93

e-mail: This email address is being protected from spambots. You need JavaScript enabled to view it.




Background
The Department of language development was organized by the initiative of of M.Auezov South Kazakhstan State University Academic Council with the aim to realize the State program of application and development of languages for the period of 2011-2020 years and policy of three languages development: study of Kazakh, Russian and English in 2005 and its name was the Linguistic Center. In September 2012 the Linguistic center was united with the State Language Development Division in connection with which it was renamed the Center of language development. From November 2013 Center was called Language Development Division under the leadership of the Scientific Research Department. From 2015 to 2017 the Language Development Division worked under the leadership of the vice rector for Innovative activity as a part of the Center of Industrial Innovative Development. Now the Language Development Division functions under the leadership of the vice rector for Тraining and training-methodical technologies and is a part of department on academic questions.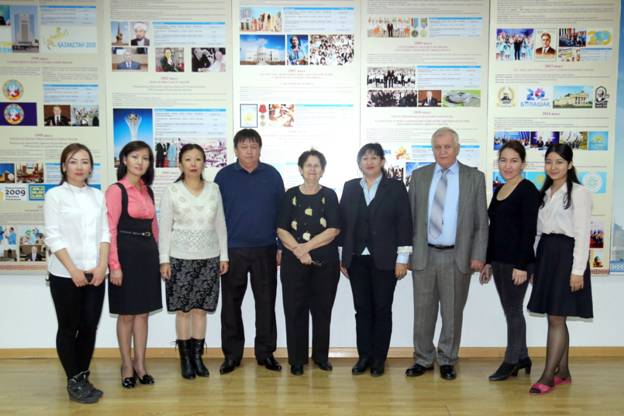 The main goals and objectives of the Department of Languages development ​​consists of the following areas:
Ensuring the application of the state language as the administrative language of the state;
Monitoring the progress of conducting internal and external documentation in the official language in collaboration with the Education management, Youth politics and language development;
The organization of courses of study state, Russian and foreign languages;
Development of skills and mobility of students in the labor market, and to give students direction in modern society by enhancing their linguistic capital;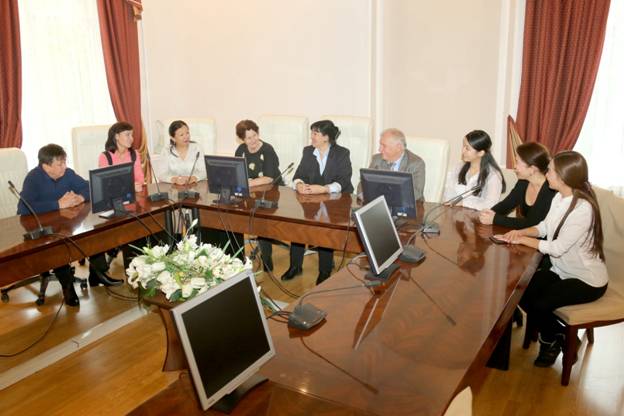 Department of language development environment:
Department meets the necessary linguistic demands of every student in the study of languages, its application in the professional field, in the work, in training students in the language of communication, speaking in the formation skills of reading, writing, listening and speaking
Department of language development is part of M.Auezov South Kazakhstan State University.
It is located in the main building of the university and possesses excellent information resources including modern multimedia language laboratory, cozy classrooms, free access to Internet.
The programs developed by the Department of language development correspond to national and international level.
The Department of language development offers more than 30 language programs annually including ESP.
It cooperates closely with all the faculties, training-methodical department and international collaboration department of SKSU, KOICA (Republic of South Korea), German cultural centre "Wiedergeburt", schools of Shymkent, TESH.
It focuses also on training students in language skills in Kazakh and English to participate in the RoK President International Scholarship programme "Bolashak", other international programmes.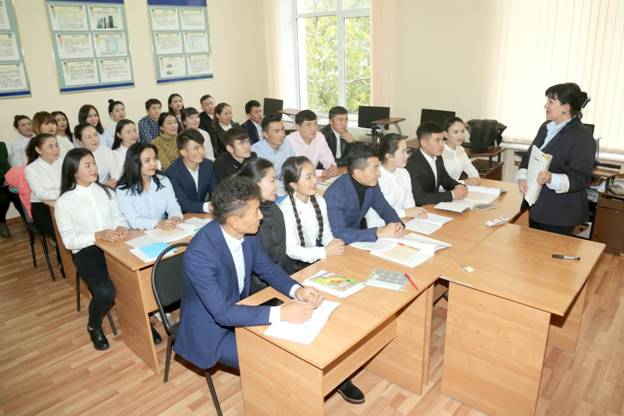 Division of Languages is a structure SKSU. M.Auezova.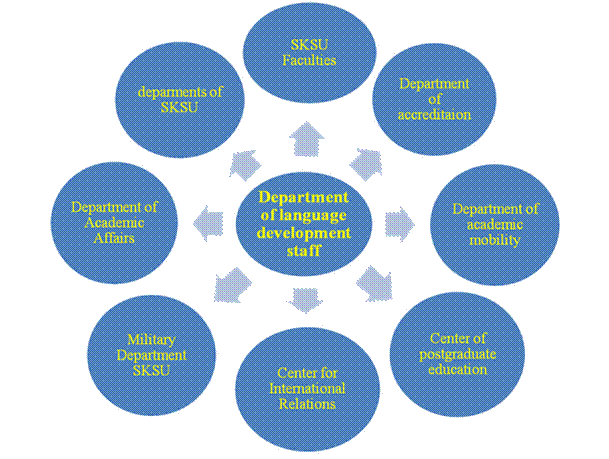 It also takes part in international conferences, symposia, meetings held in SKSU: translation and interpretation activity including the international accreditation of study programs in SKSU carried out by German International Accreditation Agency ASIIN in 2008, the negotiations with Manchester
Technological University (UK), only to mention a few; students' research conference: section "Chemistry" held only in English in 2007/2008, 2008/2009.
Attending and learning at the courses:
Students, teachers and staff improve their reading, writing, listening and speaking skills with the help of experienced and qualified teachers.
Courses in grammar, pronunciation, and conversation practice combine different language skills both in EL and ESP.
Students, teachers and staff learn how to use different language skills for various purposes.
Students learn about the culture of the countries the languages of which they study.
Class size:
Elementary-, intermediate-, and advanced-level courses have an average class size of 10 -12students.
The level of the Kazakh language are divided into groups: elementary level A1, A2, baseline average level B1-B2-level above-average high level C1
ESP courses limit the class size to 10 students to provide more individual approach in specific subjects taught in English.
Training of the Russian language began with the mid-level.
Classes are offered in morning, afternoon and evening all the year / round.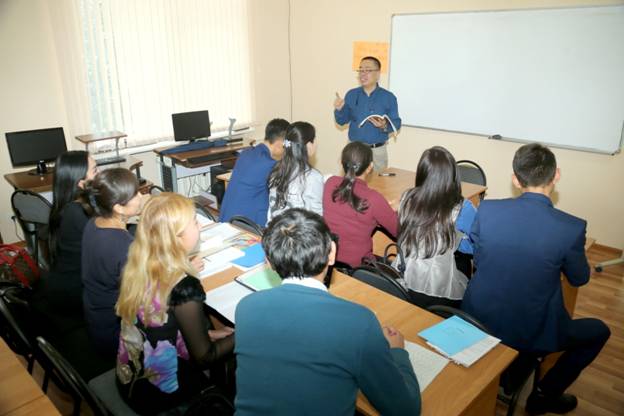 Admission information:
Students take a placement test free of charge, are assigned to beginning, intermediate or advanced instruction levels that meet their ability.
Courses are scheduled in a block of two/three academic hours two/five times per week to learn quickly and become confident in the language.
If possible the activities are scheduled with native speakers: teachers or volunteers who assist the Kazakhstan teachers: David Montoia (MA) from Spain taught Spanish in 2007/2008; a volunteer from South Korea assists in teaching Korean in 2009/2010.
Length of programme varies: half of semester, full semester or some weeks.
Support services:
The programs of the Department of language development provide free language testing, free consultations and academic advising in various languages and international programs.
Students, teachers and staff who have a university ID can use the library, computer lab center and LC office resources.
If a student successfully passes the final examination he (she) gets the certificate of M.Auezov South Kazakhstan State University.
Kazakh, Russian, English and other Foreign Languages Translations
The DLD is involved into translating articles, books, essays, documents, contracts, papers for various purposes in different fields of SKSU activities in five languages: Kazakh, Russian, English, German and Korean.
---
Found a typo? Please select it and press Ctrl + Enter.