Nurmanbetov Kairat Yenbekshievich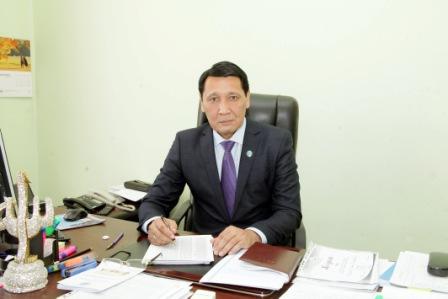 Nurmanbetov Kairat Yenbekshievich
FIRST VICE-RECTOR
He was born on March 1, 1971 in the village of Lugovoe, Lugovsky district, Zhambyl region. In 1994 he graduated with honors from Al-Farabi Kazakh State University on specialty "History", in 1999 graduated from Al-Farabi Kazakh National University, majoring in "Jurisprudence".
From 1999 to 2007 he worked as a teacher, senior lecturer, deputy dean of the law faculty of M.Kh. Dulati Taraz State University. Master of Law.
Candidate of Juridical Sciences. In 2007 he defended his thesis for the degree of candidate of legal sciences.
Since 2007, he worked as head of the Department of criminal law, Dean of the extramural-humanitarian faculty of M. Kh. Dulati Taraz state University.
From 2008 to 2018, Nurmanbetov K.Ye. worked at the post of dean of the law faculty of M.Kh. Dulati TarSU.
In July 2018 he was appointed as Adviser to the rector on legal issues of M.Auezov SKSU.
In September 2018, he was appointed as first Vice-rector of M. Auezov South Kazakhstan state University .
He is the author of more than 60 scientific works on the theory and history of state and law, on constitutionalism and higher education in the Republic of Kazakhstan. Published a textbook and manuals, which are implemented in the educational process of many universities in the countr
For many years of conscientious work in the preparation of highly qualified specialists and a significant contribution to the development of national science, as well as an active public position noted letter of Gratitude of the President of the Republic of Kazakhstan N.Nazarbayev and Honorary Diplomas of the Ministry of Education and Science of the Republic of Kazakhstan, state bodies and the party "Nur Otan".
He was a member of the Public Council of the Zhambyl region, a member of the Public Council for Combating Corruption of the Zhambyl regional branch of the Nur Otan Party, a member of the competitive commission of the Department of Internal Affairs in the Zhambyl region.
He is characterized as a highly qualified and competent specialist, an experienced organizer of higher education in educational, methodical, scientific and educational activities.
---
Found a typo? Please select it and press Ctrl + Enter.