Department of Entrepreneurship and Commercialization
Director: Bazhirov Tynlybek Saifutdinovich

Candidate of Technical Sciences

Address: 160012, Shymkent, Tauke khan avenue, 5,

building 16, office 222

Phone: 8 7252 21 07 81

e-mail: This email address is being protected from spambots. You need JavaScript enabled to view it.
Structure of Entrepreneurship and Commercialization Department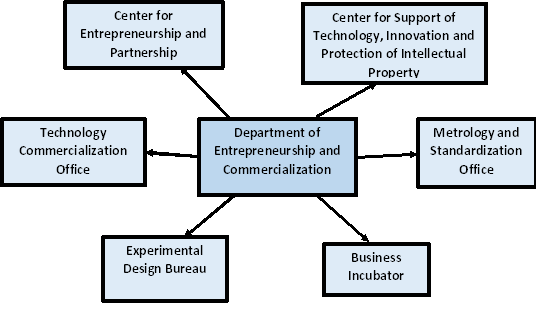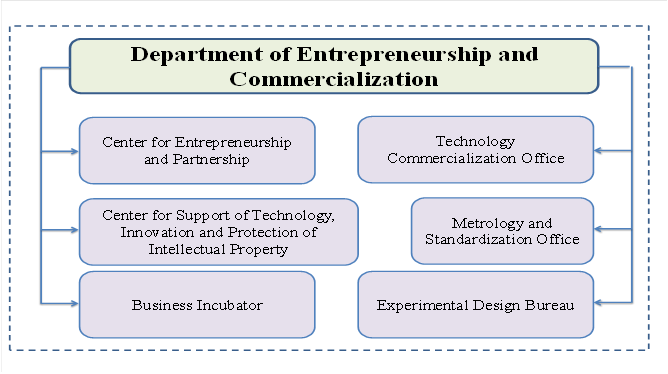 Purpose: to concentrate the university science and create a mechanism for implementation of scientific developments of the university scientists to improve the efficiency of scientific activity
Tasks:
- to form common priority areas of the university research on the basis of analytical research;
- to identify scientific ideas, form them in the form of projects and submit them to various funded competitions;
- to manage and support scientific projects until their logical completion in the form of a finished technology, material or product;
- to prepare potentially commercialized projects for submission to JSC "Science Foundation" of the Ministry of Education and Science of the Republic of Kazakhstan, for competition of Grant Program of "Fostering Productive Innovation" project;
- to conduct targeted research to identify and solve problems arising in specific sectors of economy;
- to promote the interaction of scientific structures and chairs of the university in order to integrate science and education;
- to develop commercial structure of the university in order to transform it into an entrepreneurial university;
- to prepare documents for opening of mini-productions at the university;
- cooperation with structural divisions of Akimat of Shymkent city to promote innovative technologies of the university scientists;
- to train teachers and staff, master students and doctoral students in the basics of entrepreneurship.
---
Found a typo? Please select it and press Ctrl + Enter.